Solimar Systems ReadyPDF keeps communications flowing and delivers time and cost savings for Washington State Printer
April 25, 2023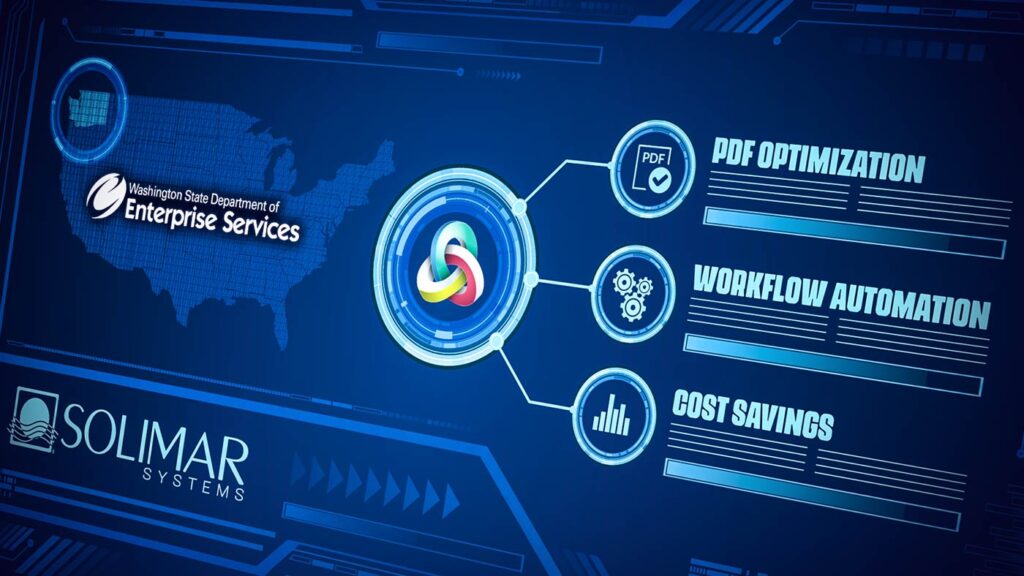 The State of Washington saves time, reduces operational costs, and realizes almost 90% shrinkage of their production PDF file sizes with ReadyPDF® Prepress Server.
25 April 2023 – Solimar Systems, Inc., provider of leading workflow software solutions for print production and digital communications, has announced that The State of Washington Department of Enterprise Services (DES) is making huge strides in keeping its workflow current and fully optimized, using Solimar's workflow-enhancing solutions. As a result, DES, a long-standing Solimar customer of almost two decades, has seen PDF file size reductions of up to 89% with an average time savings of 32% and operational costs cut by up to 45%.
The State of Washington (DES) is responsible for creating and distributing much of the state's printed communications. Through a wide range of digital output options, DES has enhanced its internal workflows with solutions from the Solimar Chemistry™ platform to ensure a streamlined distribution of digital mail and communications throughout the state.
One of the main challenges for DES was transitioning workflows from traditional toner-based devices to newer inkjet printers which require higher levels of color management and print quality. As DES manages documents containing multiple spot color elements and pre-printed inserts, the enhancement of workflows using solutions from Solimar's Chemistry platform has changed how they operate.
DES receives a variety of files that the Solimar® Print Director Enterprise™ (SPDE) and ReadyPDF® Prepress Server™ convert into optimized PDFs to drive print and archiving workflows. The PDFs are segmented by batch type, envelope size, underlays, and other attributes by Solimar's flexible Rubika® and SOLfusion™ solutions. The scalable workflows allow DES to efficiently process daily loads while making onboarding new projects comparatively easy.
After witnessing the power of Rubika for more than 10 years, DES incorporated ReadyPDF into its workflows to optimize PDF in conjunction with other SPDE modules that convert PDF into AFPDS to drive printers that cannot accept PDF directly. Doing so led to significant reductions in the time to convert and print files, ultimately creating substantial savings.
"We use ReadyPDF for color jobs for spot color optimizing on our inkjet. We are also using it for some black and white print jobs, just to maximize their print quality and get them as close to the toner output as we can, also for the inkjet. We also use it to optimize other jobs where we get some gnarly PDFs from customers," comments Zimmerman, "This really helps to clean these files up and make them run a lot faster for our conversions, reducing the time to print and, in turn, the file size for our archives."
Zimmerman and his team also use ReadyPDF for its easy-to-use obfuscation function. The state works with many sensitive files daily, including pay slips, insurance documents, and medical records. The obfuscation function is a vital tool in securing the confidentiality of these documents by hiding personal information and enabling DES to share select files with key partners with whom it collaborates.
"The optimizations that the State of Washington is achieving with ReadyPDF and other Solimar solutions are truly groundbreaking," comments Mary Ann Rowan, Chief Experience Officer, Solimar Systems. "This new level of productivity shown by DES allows for faster and free-flowing communications for the state. We're grateful to have Michael on our Customer Advisory Council as his insights benefit our team and the other members."
To learn more about The State of Washington uses Solimar Systems solutions, please read the case study and watch the video interview with Michael Zimmerman and Damien Bernard.
About Washington State Department of Enterprise Services
Washington State DES operates the third-largest in-plant printer in the United States for 2022 with total sales of almost $29 million. In addition to traditional offset and web press functions, DES maintains a robust digital print and mailing operation that processed over 168 million impressions across nearly 47.5 million pieces mailed in fiscal year 2022. Their digital fleet includes toner and inkjet output with both cutsheet and continuous printers. On the mailing side, DES has multiple high-speed inserters and an MLOCR sorter to achieve maximum postage discounts that have saved their state and local government customers $5.6 million in postage for fiscal year 2022 alone. Additionally, DES operates a campus mail and regional distribution system with its own zip code for incoming USPS mail, along with a fulfillment warehouse and web store for agency and public distribution of material. DES relies heavily on workflow automation technologies to maximize their productivity while keeping overall costs as low as possible.
For more information, call the Solimar Sales Team at +1.619.849.2800.