Bring accessibility to your transactional documents.
The ability to deliver accessible documents to comply with Section 508 of the U.S. Rehabilitation Act of 1973, as well as other mandates and initiatives, is a growing consideration for many organizations. The Solimar Accessibility Engine enables organizations to create workflows to automatically tag very large volumes of transactional PDF content to create PDF/UA (accessible PDF) files. The engine utilizes powerful, flexible indexing templates to target and tag content.
The Solimar Accessibility Engine applies these templates in automated workflows designed to address the needs of organizations that produce highly personalized content, including banks, brokerages, governments, insurers and schools. Combined with other Solimar products, the Solimar Accessibility Engine routinely supports creating accessible PDF documents from non-PDF source print data such as AFP, IPDS, LCDS, Metacode, PCL, PostScript and VIPP®.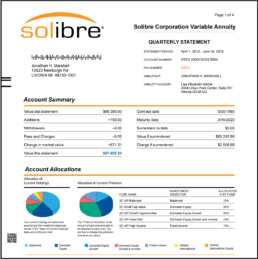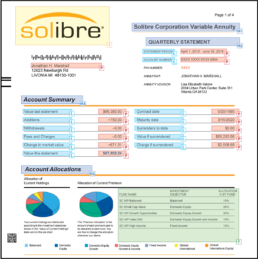 Tagging Accessible Elements with the Solimar Accessibility Engine
Automate the Creation of

Accessible Documents

& Deliver

PDF/UA
Allyant's automation tools enhance the tagging capabilities of Solimar toolsets and can provide standards-compliant, accessible documents for volume applications.
Learn More
Key Accessibility Features
Visual Templates
Makes setup simple, including defining headers and rearranging reading order
Easy Tagging
Easily identify and tag text, images, and tables - including defining alternate text and selecting language
Powerful Indexing
High-performance and multi-threaded power ensures quick processing of documents
Extensive Tag Types
Article, Caption, Division, Form, Formula, Headings, Label, Lists,  Note, Paragraph, Part and more...
The Solimar Accessibility Engine requires SDX Designer to create the indexing templates needed to define the fields to make accessible in the document. In addition, SOLfusion is required to run the engine to perform the accessibility commands. More advanced workflows can take advantage of running the Accessibility Engine straight from the command line instead of using SOLfusion to run the engine.
Solimar Accessibility Engine System Specifications
Please consult the requirements for your edition of Adobe® Acrobat® in addition to those listed below. In case of overlapping requirements, the higher value should be used. Adobe® Acrobat® is not included with SDX Designer. For licensing information, see Adobe Systems at https://www.adobe.com/.
OS: Windows® Server 2012, Server 2012 R2, Server 2016, Server 2019, Windows® 10
CPU: 2.4 GHz
RAM: Minimum: 2 GB
HDD: 1GB free disk space for software installation, formatted with Windows® NT File System (NTFS)
NIC: Ethernet network interface supporting the maximum speed of the network, preferably 1 Gb/s or greater
USB Ports: 1 available port required if using physical license keys*
Additional Software: Adobe® Acrobat® X (10) or higher, Standard or Professional edition; Microsoft® .NET Framework 3.5 & 4.7.1
Note: SDX Designer will not work with Adobe® Reader
OS: Windows® Server 2008 R2, Windows® 7 Professional or Ultimate SP1 (64-bit), Windows® 8, Windows® 8.1, Windows® 10, Windows® Server 2012, Server 2012 R2, Server 2016, Server 2019, Server 2022
CPU: x64 2.4 GHz, Quad Core
RAM: Minimum: 8 GB, Recommended: 24 GB or more
HDD: 6GB free disk space for software installation, formatted with Windows® NT File System (NTFS). Disk space requirements for processing data vary based on job size, volume, and application
NIC: Ethernet network interface supporting the maximum speed of the network, preferably 1 Gb/s or greater
USB Ports: 1 available port required if using physical license keys
Additional Software: Microsoft® .NET Framework 4.6 will be installed by the installation program if not found