Solimar Systems Expands European Distribution Network with New Appointments
May 26, 2021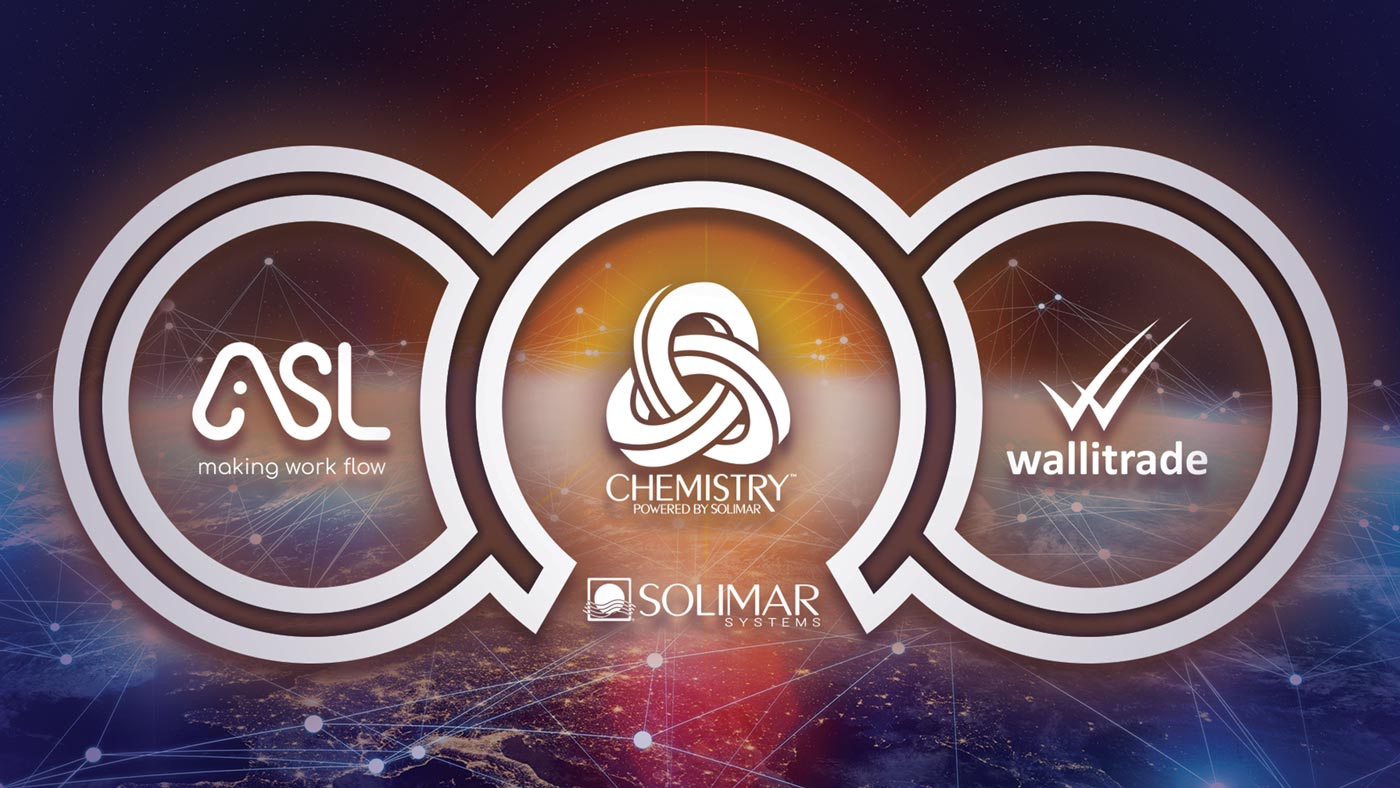 ASL Group to distribute Solimar Systems' Chemistry™ platform in the UK and Wallitrade Kft, Hungary, to facilitate regional sales of this comprehensive CCM solution
May 26 2021 – Solimar Systems, Inc., provider of leading workflow solutions for production printing and digital communications, has announced the appointment of two new distributors, ASL Group and Wallitrade Kft, further strengthening its European sales network.
ASL Group will offer the Solimar® Chemistry™ Platform to their clients in the UK. The platform is Solimar's extensive range of modular Customer Communications Management (CCM) solutions that provide users with the tools to achieve better visibility, accessibility, and mobility throughout their production printing and digital delivery workflow.
Wallitrade will also offer the Chemistry Platform to its clients while providing technical support and services throughout Hungary and Slovakia.
"The breadth of capability in our Chemistry Platform is creating opportunities for printer vendors in Europe and around the world. By joining Solimar Systems' distribution network, ASL Group and Wallitrade mark an exciting step in our journey to making local, expert service for Solimar Chemistry available to more companies in Europe," comments Mary Ann Rowan, Chief Experience Officer at Solimar Systems. "We are excited to help our new partners bring robust workflow solutions to their customers, expanding their options for PDF optimisation and piece-level tracking whilst supporting printing, finishing, and digital delivery."
According to Will Doherty, Commercial & Industrial Printing Systems Director at ASL Group, the addition of the Solimar Systems brand to the ASL portfolio is a significant move for the company. "Solimar has an excellent range of production printing and digital delivery workflow enhancing products, offering the flexibility required by printers in all sectors. After the challenges faced by the entire industry over the last 12 months, adding these solutions and working with such an innovative company presents a unique opportunity for our customers to explore new ways to optimise and streamline their print management—a highly valuable prospect as businesses continue to focus on ways to increase profitability."
In addition to optimised processes and increased efficiencies, Doherty says that the ASL team is keen to explore the opportunities that Solimar's solutions could afford their customer base in the UK, particularly the many pdf optimisation benefits delivered by the award-winning ReadyPDF® software. With nine sites throughout the country and, as one of the largest managed-office suppliers in the UK, ASL is well-positioned to support customer needs and help them to establish new ways to drive better business performance with Solimar's products.
Wallitrade's goal is to offer innovative technologies that serve current customer needs. This synergy with Solimar Systems makes them an ideal fit to partner with Solimar, says Janos T. Kovacs, Managing Director, Wallitrade. "The addition of Solimar's Chemistry Platform to our product line-up better positions us to offer fully integrated production printing and digital delivery workflow solutions in our territory. Our aim is to provide optimal quality and reliable solutions to meet the increasingly complex market challenges our customers face. Solimar provides us with the range of solutions able to support this objective," comments T. Kovacs.
Jamie Walsh, Sales Manager for EMEA and APAC, Solimar Systems, concludes, "ASL and Wallitrade provide extensive expertise and a level of knowledge and consultancy that will ensure our production printing and digital delivery customers are both well-advised and supported long-term. As a team, we bring exceptional experience to print management for clients with both PDF, IPDS and other mixed data needs. We look forward to working together."

About ASL Group
ASL is one of the largest established managed-office services suppliers in the UK. With 9 sites across England we are local, whilst providing national coverage, with the ability to be agile in our service offering to react to your changing needs.
We work with 7000+ customers, providing them with excellent service levels that ensure they don't have to worry about downtime affecting their business. We worry about it, so you don't have to.
Whether you wish to leverage your previous investments and mix new technology with legacy IT or install new infrastructure from a single or multiple vendor, we can help. From your first machine to your first fleet, we are your trusted partner.

About Wallitrade Kft
Formed in 1990 Wallitrade Kft is a leading provider of print and communications technology to the Hungarian and Slovakian market place. The business provides sales, technical support and printing services from its Budapest, Hungary headquarters. Wallitrade Kft has exclusivity rights for Screen, AGFA (inkjet) Rigoli and Bowe Systec equipment with distribution rights for Kyocera production inkjet, Xerox devices as well as key partnerships with Tecnau.
Wallitrade Kft subsidiary Intellflow Ltd also provides unique specialist solutions to the healthcare sector as a premier partner of Zebra Technologies.
With a diverse portfolio of solutions, Wallitrade Kft delivers a consultative approach to their clients to truly understand the needs of the individual business and make recommendations based on years of experience and understanding as well as having access to a wide range of industry leading solutions to ensure that 100% customer satisfaction is assured.
For more information, call the Solimar Sales Team at +1.619.849.2800.