Solimar Systems Invites Users to Discover the Formula for Optimized, Modernized Workflows and Real ROI at 2020 Global User Conference
February 17, 2020
Update: New Conference Dates Due to COVID-19 Impact – September 29 to October 1, 2020
Solimar Systems has postponed its annual User Conference due to the ongoing situation surrounding COVID-19. Whilst we regret that this step had to be taken, our priority is the safety and wellbeing of our customers, colleagues, partners and prospects during this challenging time. The conference will now be held on September 29th through to October 1st, 2020 in San Diego, California. We look forward to welcoming everyone at the event later this year.
Register now for the 2020 Solimar User Conference & CAC Summit in San Diego, CA on May 12-14
17 February 2020 — Solimar Systems, Inc., provider of leading workflow solutions for print production and digital communications, has today opened early-bird registrations for its annual User Conference and Customer Advisory Council (CAC) Summit in San Diego, California, May 12-14. The conference is set to provide delegates with the product knowledge, expertise and advice needed to fully utilize Solimar Systems' technology to drive their businesses forward.
With a focus on the latest enhancements and releases of the Solimar Chemistry Platform, including ReadyPDF production PDF optimization, integrated Piece Level Tracking workflow process automation, visibility dashboard with real-time reporting, the theme of the conference is Chemistry™ Evolved. The three-day conference schedule has been developed with current industry trends and challenges in mind and aims to provide the latest technical advice, business insights, and best practices to ensure delegates can realize the full potential of their Solimar Systems solutions and create modernized workflows that deliver greater ROI. Attendees will not only hear directly from Solimar Systems' leadership and expert team during the event, but much of the conference is interviews and presentations from customers and partners, from all over the world, who will share their stories of business success.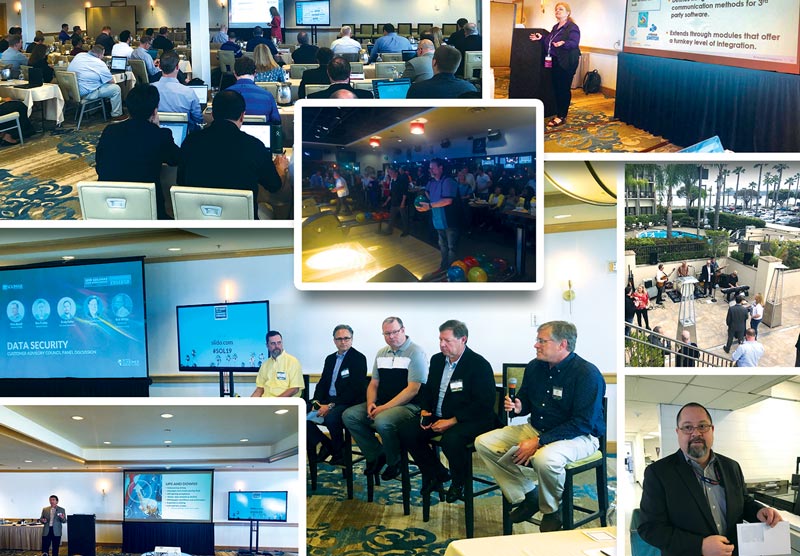 Mike Lincoln, Colorado State Printer, will discuss how their workflow has been optimized with Solimar Systems' technology: "This is a fantastic opportunity for Solimar Systems customers, like myself, to share their experiences with their forward-thinking, like-minded peers and discover new ways to enhance their operations and increase ROI," Lincoln explains. "After installing Solimar Systems' products, I have much greater control and visibility across our entire workflow and I'm looking forward to presenting the journey we've been on to get to this point. I'm sure most will be able to apply our experience to their own business and take inspiration from our story."
The conference will offer Technical Tracks packed with live, hands-on training and educational sessions and Executive Tracks for sessions focused on the business benefits of a modernized workflow.
Renowned industry analyst, Pat McGrew, Managing Director, McGrewGroup, Inc., will provide invaluable knowledge and insight throughout the event as a keynote speaker and host for panel discussions and round tables. "Events like these are key to ensuring our industry continues to grow and evolve. Solimar's Customer Advisory Council (CAC) summit takes place on May 12 and this section of the event, in particular, provides a fantastic opportunity for companies to communicate with Solimar Systems and its partners. It offers the chance to discuss what really drives their businesses and ultimately, help shape the technology developments that impact them. These conversations are always incredibly insightful for everyone involved."
Solimar Systems' President and CEO, Drew F. Sprague will provide a first look at forthcoming product releases and the company's roadmap.
"By sharing the latest company and product news with our valued customers and partners at this event, we can further demonstrate our commitment to them as a technology partner and give them the information they need to plan their next steps and maintain a competitive edge," explains Mary Ann Rowan, Chief Experience Officer, Solimar Systems. "We ensure that they have the tools and know-how to utilize the full range of capabilities across the entire Solimar product portfolio. The results of this include increased visibility of print and IT operations, regaining control of workflows and further optimizing infrastructure – whether that be scaling multiple environments, resource management, mirroring, tracking, reporting, security or multi-channel delivery.
"Now in our 29th year of business with decades of global partner and user conferences, the business continues to grow, and this year promises to provide even more networking opportunities, inspiring customer experiences and a plethora of valuable information and ideas." Mary Ann concludes.
Early bird registration for the Solimar Systems User Conference & CAC Summit 2020 is now open. A discounted hotel room rate is also available until April 20th or until Solimar Systems' group reservation is sold out.
Contacts:
Bespoke: Clare Porter, solimar@bespoke.co.uk, +44(0)1737 215 200
Solimar Systems: Jonathan Malone-McGrew, jonathan.mcgrew@solimarsystems.com, +1.619.849.2800
About Solimar Systems, Inc.
Solimar Systems enables organizations around the globe to onboard, make ready, enhance, manage and deliver print and digital communications and materials for a variety of industries and presentation types.
Commonly known as workflow software, for nearly 30 years, our team has provided solutions to facilitate the production of printed materials and digitally delivered communications. As early adopters of the PDF output format, our Chemistry platform has tightly linked technology with the PDF standard that optimizes and drives a variety of print and electronic requirements including transactional and direct mail printing, commercial print, carton converting and flexible packaging, labels, textiles and wide format. Our software also adds value with innovative technologies such as file optimization, piece-level tracking, out-of-the-box visibility dashboards for processes and equipment and dynamic, data-driven Augmented Reality (AR) experiences.
Solimar universally works with all types of existing and proposed software and hardware solutions in a print and digital production environment. Our work-with-all nature creates the opportunity for significant process improvement and ROI proven by our worldwide customer case studies and testimonials.
For more information, call the Solimar Sales Team at +1.619.849.2800.