Solimar Systems enables $400K of new business to Borns Group
August 4, 2020

August 4th, 2020 – Solimar Systems announces that South Dakota-based Borns Group, a leading provider of mailing and marketing print solutions, has won almost $400,000 of new business, cut labor and operational costs by $100,000 per year and improved project turn-around times over 60% thanks to the installation of the Solimar® Chemistry PDF-centric workflow management solution.

Family-owned, Borns Group provides a complete range of marketing services along with print and mailing solutions for nation-wide clients. The company identified several opportunities to streamline its production efficiency, combat slow turnaround times and reduce labor costs by implementing the Solimar workflow solution.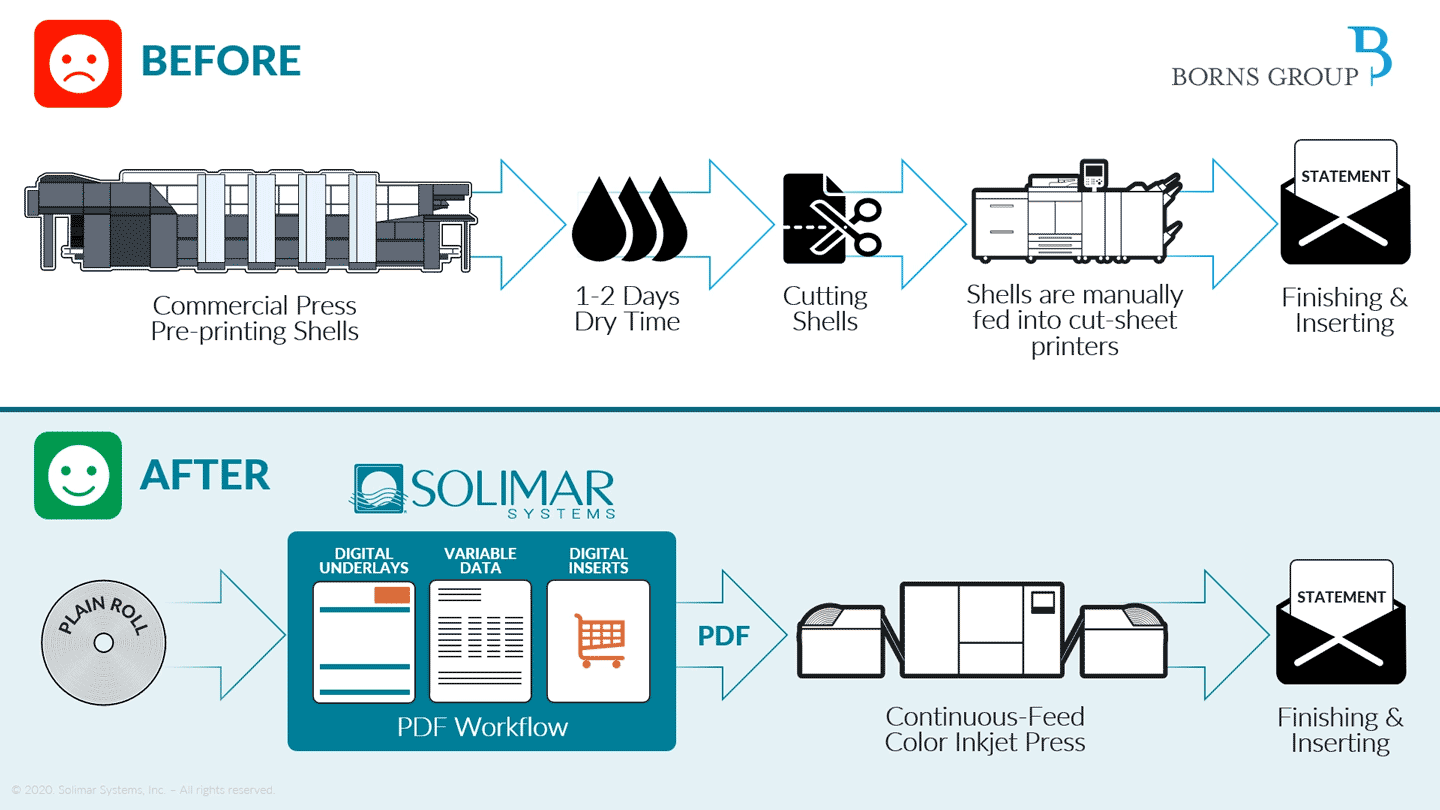 "A primary challenge for us was to produce better client jobs with a shortened turnaround window. We knew that if we could accomplish that, it would help our customer satisfaction levels, which in turn would lead to improved customer retention and increased profitability," explains Lee Borns, Vice President at Borns Group.
"From the very beginning we could see the power and flexibility Rubika delivers to help with our automation needs," continues Borns. "We like the robust functionality it gives us without the need for highly skilled programming staff. And unlike other software solutions, often relying on custom programming, Rubika provides a simple-to-use interface that requires no complicated coding, accelerating implementation of production changes and new versions."
Solimar Systems supplied Borns Group with an end-to-end workflow management solution comprising Rubika, SOLfusion, Solimar Indexing Tools and SOLitrack. Rubika is a modular post-composition document optimization solution that automates client on-boarding, reducing project turn-around times and significantly improving end print quality.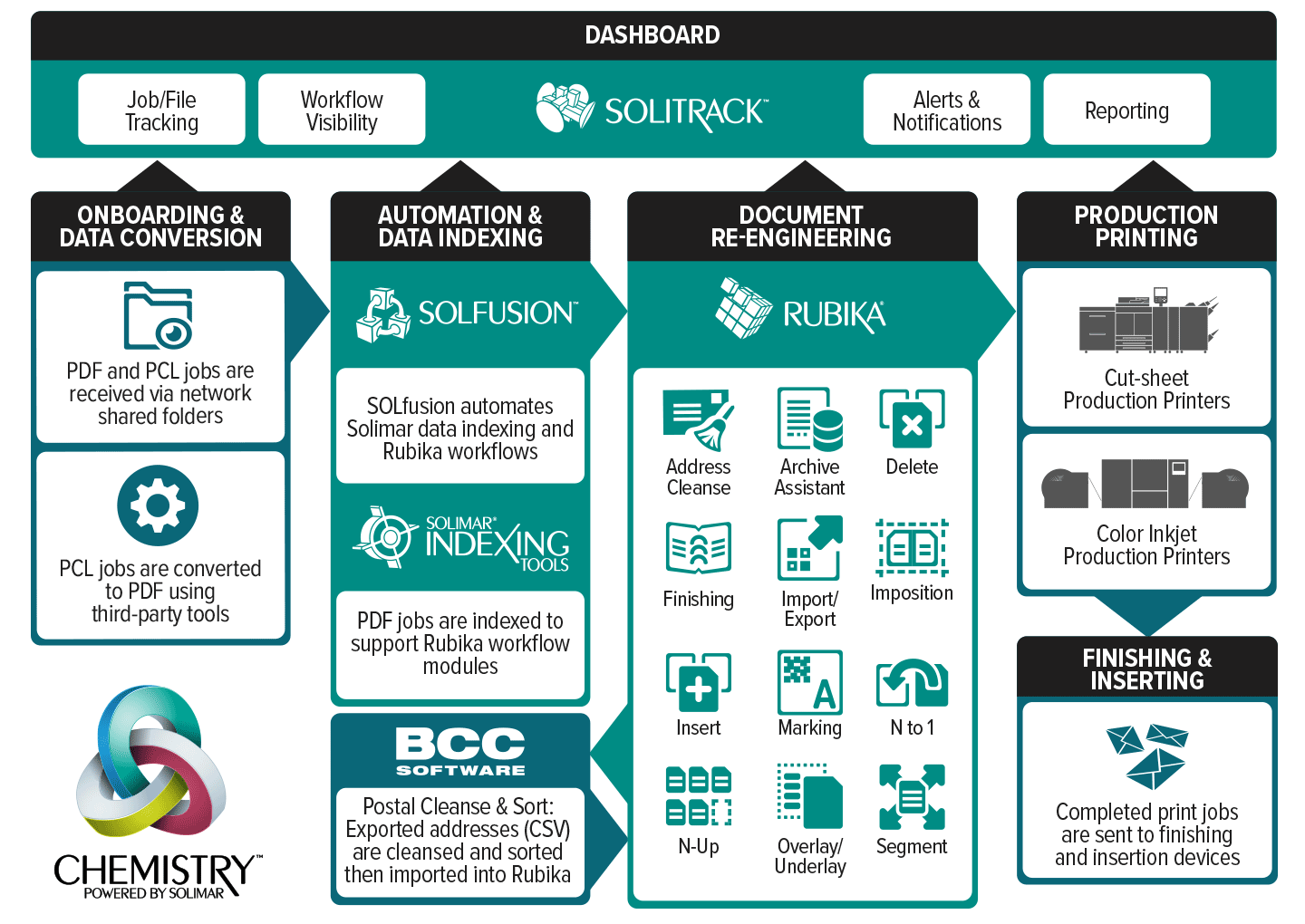 Rubika has enabled Borns Group to take better control of its inkjet presses and improve its automated finishing capability for cut sheet printers. By using Rubika to automate processes such as adding digital inserts, migrating black and white logos to full color and adding pages and perf marks, Borns has been able to reduce project turnaround time by 60%, while also cutting labor costs.
"We've calculated that we have reduced our print production labor and business process costs by over $100,000 per year," said Borns. "There are many repetitive manual operations that the Rubika software can do faster and more accurately than people. In addition, Rubika has saved us another $20,000 per year in development resource expenses by eliminating expensive coding projects."
Included in the $100,000 saving is a $20,000 reduction in postal charges by using Rubika's householding modules. "We are also able to use our postal software from BCC Software together with Rubika; the two software products work well together for us," says Borns. "We often index PDF files to capture address block information and then use Rubika to export the address information. The BCC Software ingests the data file for NCOALink® processing and returns an updated data file back to Rubika which gets imported back into the PDF. This allows mail pieces to be sorted in a manner for increased postal discounts. It also performs address cleansing based on the NCOALink® information returned by BCC Software. The whole process operates very smoothly and accurately."
The combination of faster turn-around times and improved print quality has led to a 25% increase in customer satisfaction.
"Rubika accomplishes many things to decrease costs while at the same time helping to increase sales with higher retention rates. We are also securing valuable new business too," says Borns.
"Customer retention is essentially priceless. It means a lot to us to have repeat business and create long-term relationships with clients. The added document quality infusion Rubika delivered plus the customer retention factor have contributed heavily to our annual sales number," Borns added. "The bottom line is, Rubika is responsible for adding nearly $400,000 per year in incremental sales revenue."
"I had the privilege of meeting Lee Borns at Inkjet Summit in 2019", states Mary Ann Rowan, Solimar Systems Chief Experience Officer. "Lee was eager to build a white paper factory. We're thrilled that he chose the Solimar workflow solution to streamline processes and optimize printing to their new production color inkjet press driving superb results for Borns Group."
You can see the full Borns Group case study here.
About Borns Group™
Borns Group, Inc. is a full-service marketing, print and mailing service provider. Offering single source convenience, Borns Group delivers expertise and resources to support any type of business communication needs.
For more information, call the Solimar Sales Team at +1.619.849.2800.