Day 8 at drupa 2016 – Christmas comes early this year
Do you remember the days, when grandma took the tinsel off the Christmas tree after the holiday season? Carefully, folding it away for next year? Her reasons might have been rooted in saving money but she definitely made a difference, and her eco-friendly act was way ahead of its time.
And what we saw today certainly reminded us of those, good old days. Isn't that a beauty: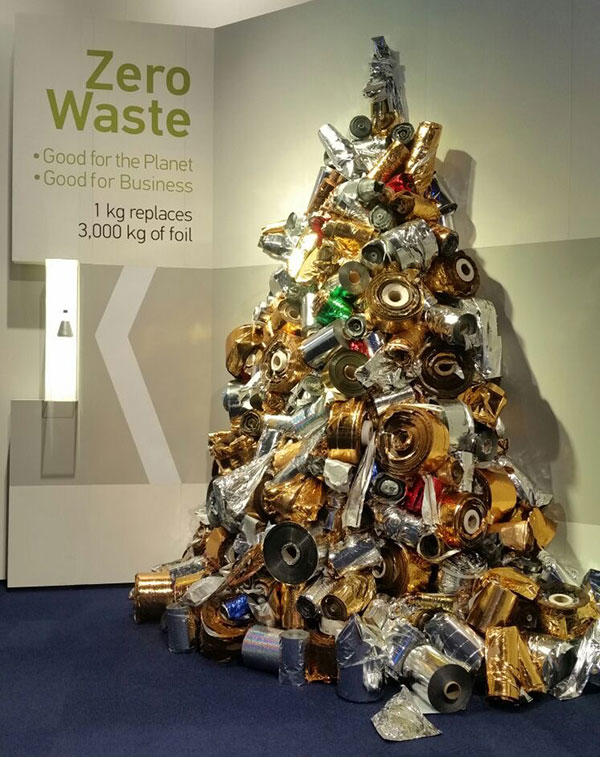 Of course, it's not a Christmas tree. It's just a shiny pile of, well, trash. But because it's so nice and shiny the message might come across better than by using a glossy brochure: reduce, recycle, reuse; work towards a zero waste production site. After all, it's up to us now to make a difference.
Think!
Landa's "installation" is a great reminder how precious our waste is. How important it is to stop wasting resources. And it would be wrong to only think down the line: print less, save trees (remember: seeds, planting, growing again?).
When it comes to developing an environmentally responsible printing plan (whether it's in the officer or in production printing), there are just so many more elements to it. A large number of our printing "ingredients" doesn't grow like trees and the only way to make sure we waste less and can enjoy our resources for many more years is embracing a strict recycling plan.
The Solimar Systems developers embraced this idea a long time ago, and many of our products help saving paper, toner, and energy (e.g. our White Paper Factory). Just stop by at our kiosk at the Xerox booth (Hall 08b / A62-1, Hall 08b / A62-5) and talk to one of us to learn more about the most suitable solutions.
For now, it's Gute Nacht from us and bis morgen auf der drupa,
The Solimar Systems team
For more information, call the Solimar Sales Team at +1.619.849.2800.