Get to Know the 2016 OutputLinks Communications Group Women of Distinction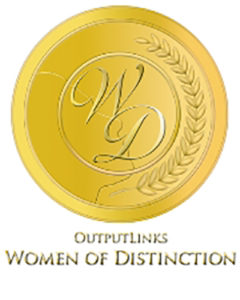 Honorees Now Total 117 Worldwide; OutputLinks Also Presents a Woman of Distinction Scholarship to a College Student/Future Industry Professional
Ten document and graphic communications professionals were named Women of Distinction, bringing the total number to 117 worldwide. The Women of Distinction designation has been in existence for 15 years and is one of the OutputLinks Communications Group's industry recognition programs. The newest recipients – and the 107 past honorees – are leading the document and graphic communications industries to greater success.
The 2016 Women of Distinction honorees, which represent a range of professional, technical, entrepreneurial, management and marketing skills, were all selected for their industry experience, leadership skills and extensive participation in the industry.
Presenting the newest Women of Distinction honorees:
Michelle Brown
Fulfillment Director
Xpressdocs
With 25 years' experience within the postal industry, Michelle Brown has become the resident expert for sophisticated mailing and shipping strategies for Xpressdocs. She started her career at Williams Tool, a mail order catalog company, in 1990. Brown's career took her to lead the supply chain team at RadioShack Headquarters in Fort Worth, Texas. Here she was able to apply her experience and knowledge to implement Open & Distribute mailings, resulting in three-quarters of a million dollars in cost savings. While at RadioShack, Brown led the team that was responsible for the shipments and mailings for over 7,200 stores. Continually embracing new technologies, she created much efficiency within her division, landing her the RadioShack Supply Chain Excellence award in 2001. She now serves as the director of fulfillment for Xpressdocs, a position she has held for nearly a decade. She oversees the shipping, mailing, and data services department. Her contributions towards creating unique internal automated workflows, as well as streamlining postal mailings, have helped Xpressdocs elevate to unprecedented productivity. These efficiencies led Xpressdocs to become the recipient of the distinguished United States Postal Service Mail Innovation award in 2013. Michelle has served on the Fort Worth Postal Customer Council board since 2012.
Joy Gendusa
CEO & Founder
PostcardMania
Joy Gendusa is an entrepreneur, business owner, author, established speaker and philanthropist. She is the founder and CEO of PostcardMania, a rapidly expanding marketing company specializing in lead generation for small to large-sized businesses. With only a phone, a computer and postcard marketing, Gendusa grew PostcardMania from a startup into an industry leader generating more than $45 million in annual revenue and employing more than 200 people in the Tampa Bay, FL area. As a business leader, Gendusa as been awarded the Tampa Bay CEO of the Year, Entrepreneur BusinessWoman of the Year in Tampa Bay, and twice been an Ernst & Young Entrepreneur of the Year finalist. Her company, PostcardMania, has been named to the Inc. 500 and the Inc. 5000 lists, and has helped over 71,000 small businesses with their marketing.
Lori Messina
Owner & Executive Vice President
Access Direct Systems Inc.
Lori Messina's 30+ years at Access Direct Systems has been a journey from an entry level position to executive vice president and owner. Her "can do" attitude and passion for excellence have served her well as she "rose through the ranks." Her depth of knowledge quickly won the trust of existing clients as well as creating new business. Messina possesses a complete understanding of both client communications, internal project management, and how to tailor and apply technology to the individual client's program, providing a personalized one-stop-shop experience. Her present position as executive vice president makes her responsible for the implementation of the company's strategic plan, facilitating the various aspects of change management and developing policies, procedures and objectives that continually put Access Direct in the forefront of the direct mail marketing industry.
Susan Moore
Vice President
Tharstern
Susan Moore is Tharstern's vice president of U.S. sales and oversees the U.S. customer acquisition strategy. She co-founded DPI in 1992 and served as president until its acquisition by RPI in 2013. During this time, she established DPI as a leading provider of technology-driven print-on-demand solutions for corporate brand communications. Prior to founding DPI, Moore worked for 10 years at Eastman Kodak Company in sales and business development for the printing industry. She is widely recognized as one of the print industry's most prominent businesswomen. She served on the Board of the Digital Solutions Cooperative (Dscoop) and was the recipient in 2014 of the Jack Glacken Award for outstanding contributions to the Dscoop community. Moore says she's on a mission to help the industry embrace innovation to improve the bottom line.
Holly O'Rourke 
Director Corporate Communications
EFI
Holly O'Rourke is the worldwide director of communications at EFI. Her career in graphic arts marketing has put her at the center of some of the industry's transformative moments in the growth and expansion of digital print. O'Rourke's career in printing began in 1994 when the New Jersey native began working for Agfa Graphics' marketing and PR departments. Four years later, she took a new role as worldwide marketing programs director for Polaroid Graphics Imaging, which was followed by a marketing and PR leadership position at Creo Americas. Nine years ago, O'Rourke joined EFI's global PR and advertising team. She arrived as the company was accelerating its shift from being primarily a provider of RIPs and digital front ends to being a leading manufacturer of inkjet graphics printers as well. In her time with EFI, she has presided over essential and successful marketing and PR initiatives as the company expanded its presence, working with customers, media, analysts and others in ways that have helped ensure that EFI continuously offers the right brand promise. In recognition of her advertising and PR accomplishments with the company, EFI presented O'Rourke with its quarterly sales and marketing MVP Award in 2011.
Mary Ann Rowan
Chief Experience Officer & Principal Founder
Solimar Systems, Inc.
Mary Ann Rowan is the Chief Experience Officer and principal founder of Solimar Systems, Inc. Her focus is on leading their global marketing and sales initiatives, looking after their key clients, global partners, supporting selected partners in joint marketing efforts, and making strategic contributions to the Solimar Systems suite of solutions to continuously improve their clients' performance and streams of revenue.
Spending a good amount of her time on the road, with frequent international trips, she tries to stay as close to their customers and partners as possible. She likes to understand their business strategies, infrastructure requirements and listens for ways Solimar Systems' solutions can be even more effective and competitive. She shares this feedback with the Solimar Systems teams as they are always focused on continuously improving their offerings and services.
Mary Schilling
Owner
Schilling Inkjet Consulting
Mary Schilling, the owner of Schilling Inkjet Consulting, works with all the elements of the digital process – from design best practices to printing on various inkjet technologies to fluids and substrates. She provides technical support to print providers on optimizing print quality while lowering total print cost. Understanding the dynamics of the digital marketplace, and the incredible growth and advancements in high-speed inkjet technology, Schilling provides customers with print quality, color gamut, fluid consumption, optimum machine settings and print quality analysis, utilizing G7 methodology. She also works with paper mills, inkjet fluid and machine developers to align the consumable development of new, innovative inkjet print opportunities. At Schilling Inkjet Consulting, she consults with fluid and inkjet machinery suppliers and end users on how to improve color and print quality for paper, plastics, metal, fabric and glass with UV, solvent and aqueous inkjet fluids. She received the Innovator of the Year awards from the Flexographic Technical Association and from Xplor International for her efforts in closing the gap between document printing and digital packaging. She is a published author, Certified CMG Color Consultant, holds her color G7 Certification and blogs for Printing Impressions Magazine.
Nancy Sobhy
Marketing Program Manager, Print Solutions
Veritiv Corporation
Nancy Sobhy is the North American marketing program manager for Print Solutions at Veritiv Corporation, a Fortune 500 company. Sobhy joined Unisource Worldwide (a Veritiv legacy company) in December 2012. With more than 10 years of experience in sales, marketing and product management, she has developed valuable and impactful campaigns while working closely with internal and external stakeholders. Her most recent experience includes seven years with global merchant PaperlinX, which included a three-year stint in Australia, as a product manager for PreMedia solutions & technology. Her previous experience also included business development and marketing roles for Hostmann-Steinberg Huber Group.
Christine Soward
Owner
DMS ink
Christine Soward is the president and CEO of DMS ink, based in Yellow Springs, Ohio, with an additional production facility located in the company's original location in Dayton. She took over the business after purchasing it from her father, who started the business in 1984 as a direct mail company. Today, DMS ink is certified WBENC, MBE and WOSB. Soward is a compassionate and visionary leader, who sees community involvement as a great asset. She serves on the boards of the Dayton Area Chamber of Commerce and Dayton Children's Hospital and is a past committee chair of Prevent Blindness in Dayton.
Monika Zarzycka
Instructional Associate Professor of Digital Media
University of Houston
Monika Zarzycka is an instructional associate professor of digital media at the University of Houston. She is the past president of the Graphic Communications Education Association (former International Graphic Arts Education Association). Her areas of expertise include epublishing, social media, personal branding and integrated media. Originally from Poland, Zarzycka moved to Texas in high school, where she was exposed to the graphic communications industry by her American host-father, C.J. Fertitta. After high school, she obtained her A.A.S in advertising/graphic design from the Kilgore College, bachelor's in technology leadership supervision and master's in training and development from the University of Houston, and her master of divinity from the Houston Graduate School of Theology. She began her teaching career at the University of Houston in 2005. Along with Dr. Jerry Waite, she helped create the Digital Media major in 2008. The major currently has almost 500 students. She also helped the major get a full six-year accreditation from the Accrediting Council for Collegiate Graphic Communications in 2010 and in 2016. She was involved in many university-wide grants, which included designing interactive lessons for various courses and improving students writing. In September 2016, she obtained a $25,000 Teaching Improvement Grant to utilize interactivity and gaming in online teaching.
Congratulations to the 2016 Honorees
Julie Plata, co-CEO of the OutputLinks Communications Group, said, "Through its recognition programs, the OutputLinks Communications Group identifies, promotes and celebrates extraordinary leaders from the graphic arts, print and document industries – like these 2016 Women of Distinction honorees. Please help us congratulate them and honor their stellar achievements when you connect with them in our community. We are delighted and privileged to recognize some of the top, most notable professionals in our print and document community."
Industry professionals are invited to congratulate individual members of the new 'Women of Distinction' class with a congratulatory email to WOD@OutputLinksCG.com. 'Women of Distinction' nominations are accepted throughout the year using the same e-mail.
Woman of Distinction Scholarship
In addition to the Women of Distinction, the OutputLinks Communications Group's Woman of Distinction Scholarship was also named. This year's recipient is Brianna Ferguson, a junior at the University of Wisconsin – Stout. She's studying cross-media graphics management with a packaging emphasis and is a two-time recipient of the University's Chancellor's Award for Academic Excellence. She's also an active member of the Stout Typographical Society, assisting with the university's print sales prospects, coordinating the current production work and planning the annual industry tour. She volunteers as the co-chair of the Gravure Day Committee, coordinating guest speakers and deciding the event theme. She' also a laboratory assistant in the main print lab, working on a Heidelberg offset press, Kodak CTP system, large-format Konica digital presses as well as other machines. Ferguson recently accepted a prepress internship with Nosco.
The Women of Distinction honorees and the Woman of Distinction scholarship recipient were honored on the evening of Sept. 17 at GRAPH EXPO 2016, during the Electronic Document Scholarship Foundation's (EDSF) "Give Back @ Graph" event in Orlando, Fla.
---
You can find the original article here.
For more information, call the Solimar Sales Team at +1.619.849.2800.