Hunkeler Innovationdays, Day 2: Getting to know your new friends
Making new friends
Do you know this feeling, when you arrive at a conference at your partner's booth and you don't know anyone there, yet? The partnership is so fresh from the press the information barely made its way down and across the ranks?
In case you expected the word awkward, we, unfortunately, have to tell you, you're wrong. It's a great feeling. Our new friends at Screen extended such a warm welcome to us, made us part of their conference team, by the end of the day we knew we belong to there.

Busy builds the team
And another disappointment for our dear readers: traveling isn't quite a glamorous as it sounds, at least not the day-on-the-concrete-floor part of it. Show floors seem to be part of a global conspiracy sponsored by a global concrete consortium: mercilessly hard on any human body. First, you think it's only your feet, then it slowly creeps up your legs, until…
Anyway, the point is, on a busy day, there's no chance for the concrete monster to get you. And yesterday was a very busy day. Which, of course, was great for meeting a lot of new people but more importantly, to join forces and introduce the best possible solutions to Screen's customers and prospects to make their printing life easier, more productive and thus successful, and at the end of the day, also financially more rewarding.
The HeinzelHunkelermännchen
And at this point, we'd like to extend a huge thank you to the Hunkeler "boys": there's a whole team of helping hands running around the show all day to help keep the show floor clean and dispose of all the paper we're producing.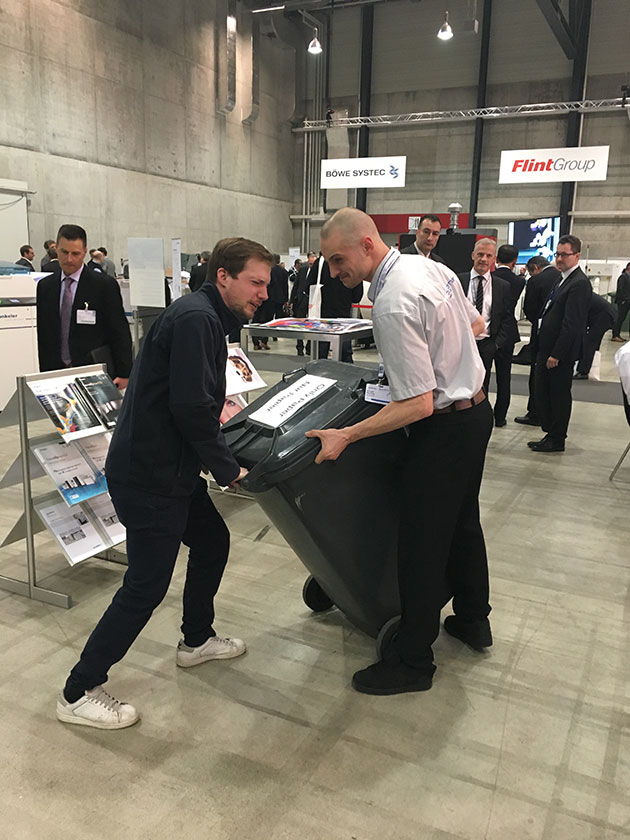 It's a tough job, guys, right? Not only are they hard working but also a good fun bunch of young guys, going almost unnoticed like the "Heinzelmännchen" (The Little People). So again: Thanks, guys, great job!
And that's it for now from us.
Looking forward to seeing you at the show or online,
The Solimar Systems Team
For more information, call the Solimar Sales Team at +1.619.849.2800.