Hunkeler Innovationdays, Day 2: Getting personal with lions and monkeys
Joining forces with the animals
Let's get this out of the way upfront: we're not trying to get into anything like Darwinism, evolution, etc. here. We stick to our business: customer communication management, personalization, post-composition and the added, extra layer of information. And for those of you, who know us just too well, you guess right, it's all about Augmented Reality, AR.
Together with our friends at Xerox, we developed some real-life examples how to keep documents evergreen. During this process we had many voices in our heads: "AR, really? How's gonna use that?", "Stick a dynamic voucher on the page, that's good enough!", "Why make the AR experience personalized, it's crazy enough as it is." – And much more. But then we thought about the impact of a mailing piece and personalization, and we realized we needed to consider several aspects to show the added value for this business proposition:
1) Color, through and through
2) Personalization, through and through
3) Uniqueness, through and through
The conclusion: create a paper-based piece of communication, add the personalized AR experience our "partners in crime" at TREKK helped develop, here we go.
But why?
The roaring marketing answer: Stand out from the crowd!
The more reasonable business-focused answers:
Stand out from the crowd with communication that is relevant to the customer and talks to them directly
That encourages them to act immediately using the device that is already at their fingertips
Engage with customers in a unique and focused way that adds benefit for them
Show you're up to speed with latest technologies
Stimulate business/revenue
But this means I have to totally re-do my documents!
No, it doesn't. You can use your "same old" documents. Everything that needs to be added can be done at the post-composition stage, using Solimar Systems' products. What needs to be done separately, of course, is the definition and preparation of your AR content.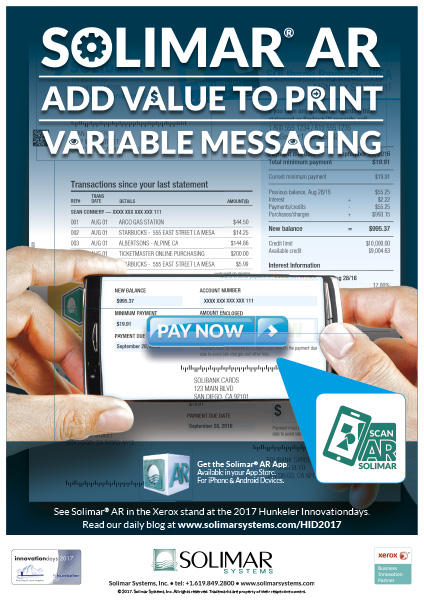 During the Hunkeler Innovationdays, we'll be demonstrating this solution live at the Xerox booth – stop by to meet cheeky monkeys, roaring lions, and impressive elephants!
See you in a bit, live or online,
The Solimar Systems Team
For more information, call the Solimar Sales Team at +1.619.849.2800.