drupa 2016 – 11 Glorious Days for the Printing Industry
This is not to say that the printing industry never sees any other days of glory. But as we all know, drupa is different. Special.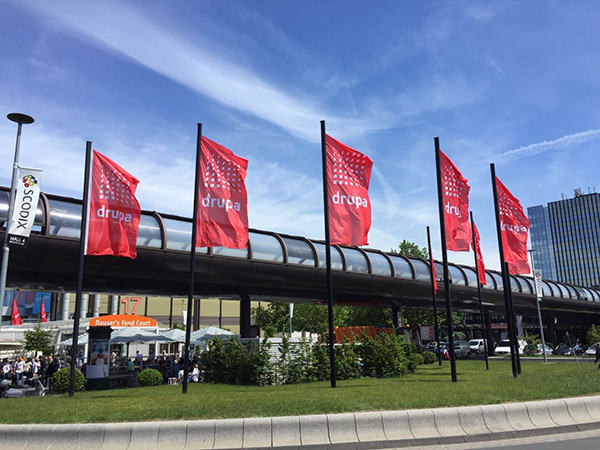 Just have a look at these numbers:
1837 exhibitors (only the main ones listed in the catalogue!) from 54 countries (again, only the officially listed ones)
260,000 visitors (the first rough estimate) from 188 countries, with 75% of them being decision makers (yes, all in all, fewer visitors, which doesn't come as a surprise. However, the visitor "quality" is better than before).
And let's take the next list of facts directly from the official drupa press release:
"Various other indicators produced by the visitors' survey also underscore very clearly that drupa is a flawless B2B trade fair and platform for business decisions:
54% of visitors came to drupa 2016 with concrete investment intentions
29% placed orders during drupa
30% are planning to place their orders after drupa
60% found new suppliers at drupa"
Takeaways drupa 2016
Printing is our business and we're used to doing a lot of homework, watch and evaluate market trends, technology trends, equally for our clients and our development team. Which means some of the drupa trends didn't, as such, surprise us but confirmed the path we are on.
In general, we saw three major points of interest:
3D printing (including everything and anything that is related to it)
Packaging printing (including hardware and software)
Personalized printing (including hardware, and with a far stronger focus software)
No need for a detailed comment on the latter one.
Being exhibiting partners at the Xerox booth we used some of our tools to demonstrate how easy it can be to produce personalized catalogs, which, no doubt, have a much greater impact on customers than any average communication:
Our Solimar Systems solutions and 3rd party solutions together to create communication makes the difference. Find out more about this workflow here.
Thank you very much for stopping by at our blog – we are looking forward to seeing you soon at a conference near you.
Warm regards,
Mary Ann Rowan
CSMO Solimar Systems
For more information, call the Solimar Sales Team at +1.619.849.2800.