Day 7 at drupa 2016 or how to do interior design
No worries, we are not looking into changing who we are and what we do. But if you had seen what we have seen today, you would totally understand why it's suddenly all about interior design and not printing. Having said that, that's not true, it's still all about printing: 3D printing.
We've shared sculpture printing with you the other day. Today we found an article talking about 3D-printed floorplans rather than just having the good old blueprint. So today we started to put one (3D floorplan) and one (3D sculpture) and this one together for you:
The 3D printed wine rack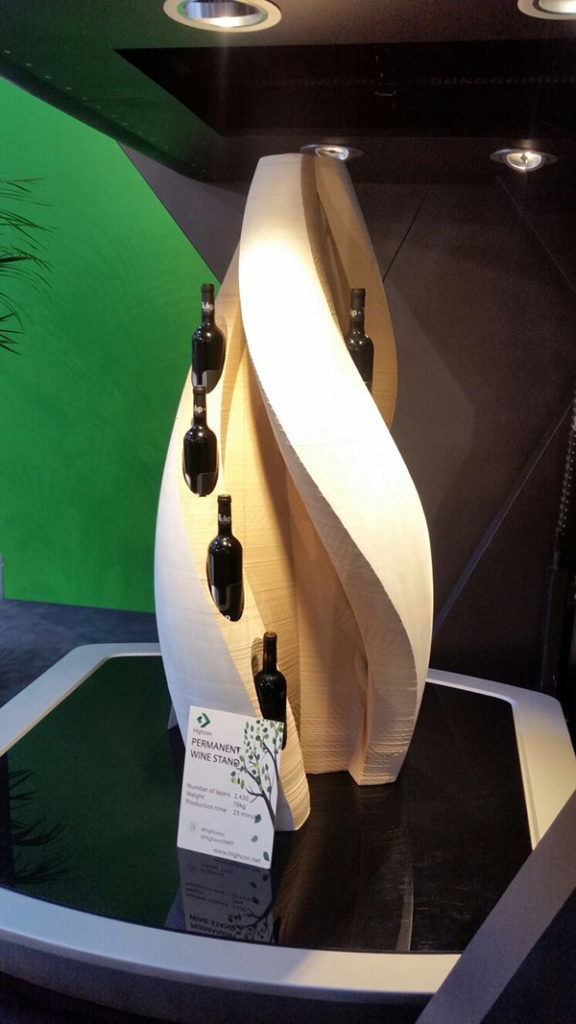 Isn't that fabulous? The options 3D printing (and yes, we hear you textile printing) offer are breaking more and more boundaries. Are we on the highway to furniture on demand? Will carpenters in the near future be operating 3D printers rather than wood cutting/carving machines?
Crazy creative printing
The latest trends in textile printing are already crazy creative; imagine you hired an interior designer, or if you're slightly more creative than we are, you do your interior design yourself, and prior to going out shopping you do a little 3D proof print of your furniture (just like we're doing a brochure proof or a PowerPoint presentation before a meeting), then put the furniture in your little 3D proof printed house, add the little textile proof printed curtains and carpets to it – that would be beyond awesome.
Ok, before we're getting all 3D proof printed away, we better get some good old 2D sleep to be ready for more drupa adventures tomorrow.
Gute Nacht und träumet süß (Danke, German colleagues for pre-translating the sentence for us!)
The Solimar Systems Team
For more information, call the Solimar Sales Team at +1.619.849.2800.