Day 10 at drupa 2016 – We are the world (of communication)!
Did you see the tweet from @drupa today: "There is no such thing as a #print industry. Print has always been in the communication industry says @printfuture at #drupa2016 cube".  This pretty much sums up our industry, right?
And it's a truly global industry: today we had the pleasure and honor to welcome guests from, amongst many others: France, Belgium, South America, Japan. Did we have problems to communicate? Not really. We are communication.
The only thing we, well, our Adrian, had a problem with today was lunch. Whenever he thought he had enough time to run over to the lunch truck (see below, still a sleeping giant when we got to our kiosk early in the morning) he found a massive line in front of him – not sure this was a communication problem or a timing issue.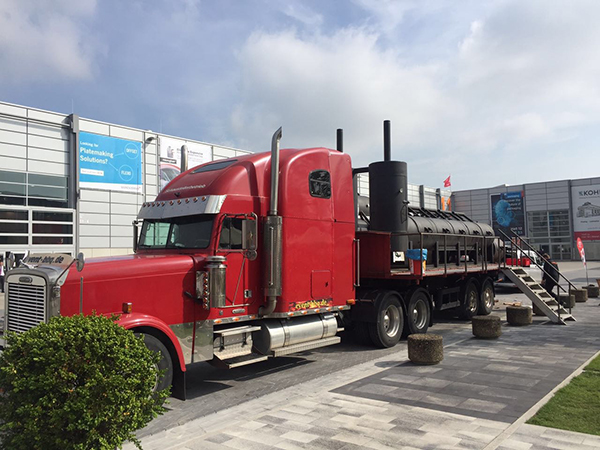 Words come hard today. Tomorrow it'll be goodbye to drupa, goodbye to Dusseldorf, and all the wonderful people here. Goodbye to friends and colleagues.
But tonight we're celebrating 2 weeks of awesomeness, innovation, communication, hurting feet, funny tasting sandwiches, countless presentations, thousands of pages printed and billions of drops of ink correctly and dynamically placed on it. Tonight, for the last time at #drupa2016 we forget about our marathon running tongues, our Frodo feet, and joining the happy crowd, dancing to the beats, well aware that we're a very privileged crowd.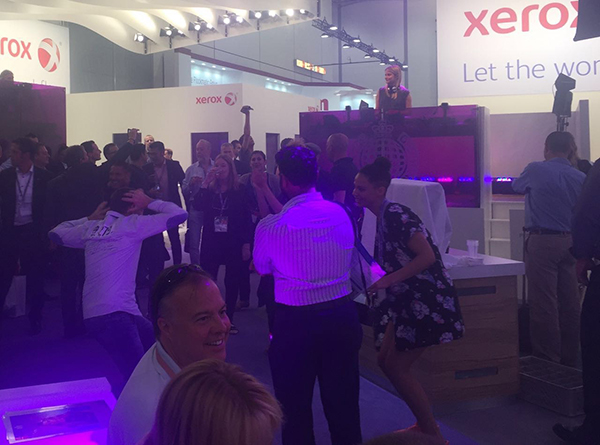 So with a few tears in our eyes, we say goodbye to you. But rest assured we don't let you wait 4 years until we're back; we'll be back with a full drupa report early next week. We'll also be in touch soon to share our upcoming events with you. So if you missed us in Dusseldorf, don't worry we'll be at a conference near you soon.
So for tonight, it's once more Gute Nacht aus Dusseldorf.
Bis morgen auf der drupa,
The Solimar Systems team
For more information, call the Solimar Sales Team at +1.619.849.2800.