Rubika TransPromo Integration
Many times, the only way a customer receives any contact by a company is through the bills, statements or other personally specific documents provided to them. Generally, the customer only looks at the actual document and discards the rest of the mailing. As companies struggle to find new ways of communicating centric information, TransPromotional Messaging becomes a strategic communication vehicle.
By using existing digital output, there is no need to bear the cost of time, resources or actual monetary expense of moving upstream into your applications. You can easily reap the benefits of communicating with your customer on a one-to-one basis. By adding conditional messaging to available white or open space on the document ensures the client will see your message. You can also provide an unlimited number of digital inserts based on criteria found within the document that are pertinent to the recipient.
Add Value to Existing Documents
Most existing legacy applications, while extremely important to an organization, are under utilized in their capacity to more effectively communicate with its customers. By adding value to these documents, companies can quickly realize significant improvements in many facets of their business. For example, by sorting into proper postal order and adding appropriate barcodes, mail costs are reduced. When confidential information is masked, there is a lower likelihood of identity theft.
Solimar Systems provides you with the broadest set of solutions to enable you to quickly and easily add value to your critical customer facing documents. With an intuitive user interface, there is no complex programming required to quickly and cost effectively enjoy the benefits of TransPromotional communications.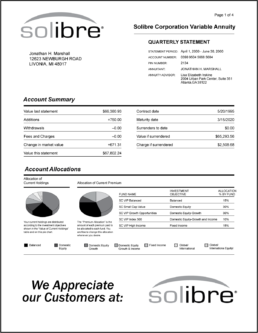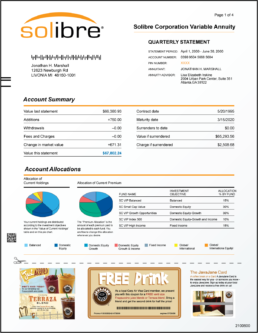 Before & After Re-engineering
Migration to color
Add marketing messages
Apply variable digital inserts
Add or change barcodes, including IMB
Mask sensitive information
Postal cleanse and sort
Add sequence numbers for tracking
Clients can securely view their documents via the web and receive original or updated messaging as was contained in the mailing. To facilitate cross-media exposure, the printed content can be augmented with TransPromotional elements including multimedia and video elements. Using Web Services API's, you are able to track when content has been accessed and provide the input necessary for successful marketing campaigns.
Using your existing finishing infrastructure, virtually any machine readable data file can be used to facilitate automated reprints of documents that are damaged in the fulfillment process. Monochrome applications that use pre-printed shells can be sent to full color devices that will produce those documents with the variable information using digital color overlays.